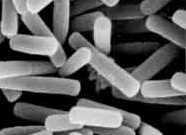 Radiation therapy can disturb bacterial colonies in the intestines and cause radiation-induced enteritis and colitis, leading to diarrhea in cancer patients.
In this study, researchers at the San Camillo Hospital in Rome, Italy used probiotics to reduce this complication.
First, the details.
490 patients had radiation therapy after surgery for sigmoid, rectal, or cervical cancer.
They were randomly assigned to a high-potency probiotic mixture or placebo starting from the first day of radiation therapy.
The probiotics included 4 strains of lactobacilli, 3 of bifidobacteria, and Streptococcus salivarius.
And the results.
Significantly fewer probiotic-treated patients had radiation-induced diarrhea.
Significantly more patients given placebo suffered grade 3 or 4 diarrhea compared with probiotic treatment.
The National Cancer Institute grade 3 to 4 diarrhea includes 7 to more than 10 stools per day, which can be accompanied by incontinence, bloody stool, severe cramping, and the need for fluid replacement therapy by injection.
It also took significantly longer before probiotic-treated patients used the antidiarrhea drug, loperamide (Imodium; 86 vs 122 hours).
The bottom line?
The authors concluded, "Probiotic lactic acid-producing bacteria are an easy, safe, and feasible approach to protect cancer patients against the risk of radiation-induced diarrhea."
Borrowing terminology from the computer industry, this could be the killer app (aka killer application) for probiotics — the program that is so useful or desirable that it proves the value of the underlying technology.
5/27/07 22:36 JR