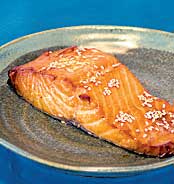 According to 2 studies summarized earlier, modifying the dietary intake of omega-3 and -6 fatty acids during early childhood does not change the risk of getting asthma later on.
Now, we have a study of fish, butter, and margarine consumption during pregnancy and development of allergy in the offspring.
The records of 295 offspring of allergic mothers and 693 of non-allergic mothers were reviewed. Atopy (allergic reactivity) was determined using the skin-prick tests to 8 prevalent inhaled allergens and 2 foods.
And the results.
In allergic mothers?
No correlation between intake of fish, butter, and margarine and the offspring's sensitization to food or inhaled allergens.
In the non-allergic mothers?
Eating fish at least 2-3 times per week reduced the risk of food sensitizations by more than a third.
There was a similar trend (not significant) for inhaled allergens.
No correlation between butter and margarine intake and food or inhalant sensitization.
The bottom line?
Studies such as this one that make conclusions based on historical information help to justify future (more complicated and expensive) studies that will follow women through their pregnancy and their offspring through the first few years of life.
3/27/07 23:46 JR