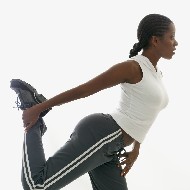 The FDA is cracking down on companies that sell quinine-containing products such as Qualaquin for non-approved uses. Their concern is over the risks of quinine to treat leg cramps.
What's the risk?
Although quinine is frequently prescribed for leg cramps, the labeling on Qualaquin (approved to treat malaria) states that side effects include cardiac arrhythmia, low platelet counts, severe hypersensitivity reaction, and death. These risks outweigh "any potential benefit in treating and/or preventing this benign, self-limiting condition [leg cramps]," concludes the FDA.
Non-drug options
Here is a review of nocturnal leg cramps in Postgraduate Medicine Online. It recommends several non-drug options that might help.
Vitamin E
MotherNature.com has a review of vitamin E.
A study in 1992 in patients on kidney dialysis who complained of leg cramps concluded that vitamin E was as effective as with quinine. Although the Cochrane Collaboration thinks more research is needed.
For leg cramps in pregnancy, taking supplements such as magnesium, sodium, or multivitamin/mineral tablets might work, according to the Cochrane Library review. Talk to your doctor before doing any of this.
Photo: American Osteopathic Association
12/13/06 10:08 JR