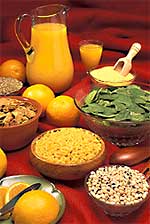 Functional Foods & Nutraceuticals has looked into the future and sees … new functional foods and nutraceuticals, of course.
Examples
"Celsius" and "Enviga"
Claim to promote weight loss via a combination of ingredients such as ginger, caffeine, and green tea that quickly and rapidly increase metabolism so that more calories are burned than consumed.
"LightFull Satiety Smoothie" (US) and "Danone Shape Lasting Satisfaction Yogurt" (Europe)
Combines fiber and protein to promote satiety with low-calorie loads.
Fortified beer
US beer fortified with folic acid and B-vitamins — "vitamin beer"
German lagers fortified with lecithin, folic acid, other vitamins and lemon balm targeting women.
Probiotic dairy drinks and yogurts
Help regulate digestive tract health
And don't forget…
Immunity-boosting probiotic juices, snack bars, and even breakfast cereals
12/12/06 21:22 JR