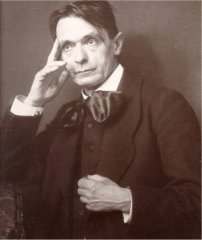 There's one hospital in Sweden where anthroposophic medicine is practiced. Here is a study of its effect in 60 women who received conventional breast cancer treatment with and without anthroposophic care.
In this study, anthroposophic therapies consisted of holistic care including natural products, iscador (mistletoe), diets, art therapy, rhythmic therapy, therapeutic massage, and hydrotherapy.
Based on standard measures of quality-of-life, improvements were recorded between admission to the hospital and 1 year later. At 5 years, there were still improvements in overall quality of life and in emotional and social functioning compared to admission for the women participating in anthroposophic care.
By comparison, only minor improvements were found in the other group.
More information on anthroposophic medicine from the Physicians' Association for Anthroposophic Medicine can be found here.
Photo: Rudolf Steiner
11/27/06 23:05 JR