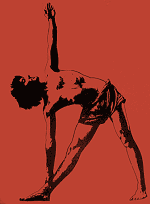 Yoga practice is associated with positive effects on cholesterol levels in the blood.
For example,
6% to 25% decrease in total cholesterol
22% to 28% reduction in triglycerides
13% to 26.0% reduction in LDL (bad) cholesterol
But how does this compare to the LDL cholesterol lowering effects of statins, the most widely used drugs to treat hypercholesterolemia?
Atorvastatin (Lipitor) 10 mg/day, 39% LDL reduction
Lovastatin (Mevacor) 40 mg/day, 31% LDL reduction
Pravastatin (Pravacol) 40 mg/day, 34% LDL reduction
Simvastatin (Zocor) 20-40 mg/day, 35-41% LDL reduction
Fluvastatin (Lescol) 40-80 mg/day, 25-35% LDL reduction
Rosuvastatin (Crestor) 5-10 mg/day, 39-45% LDL reduction
A little lower than the statins, but the benefits come without the risk of drug side effects.
9/24/06 21:09 JR