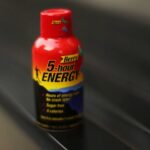 In 2009, the Substance Abuse and Mental Health Services Administration reported that more than 13,000 emergency room visits were associated with energy drinks.
Now, The New York Times tells us, FDA reports the caffeine drink, 5-hour Energy, may have been involved in 13 deaths over the past four years.
There's no absolute proof that these drinks were the sole cause of these events. And the makers of 5-Hour Energy and Monster Energy insist their products are safe and unrelated to the problems reported to the FDA.
Regardless.
The bottom line?
Senators Richard Durbin and Richard Blumenthal want to discuss the matter with FDA and tighten regulations.
Healthy adults can safely consume 400 mg or more of caffeine daily, or about as much caffeine as in several 8-ounce cups of coffee or in 2, 16-ounce cans of many energy drinks. There are little data, however, about whether such levels are safe for young teenagers.
For reference, WebMD provides a list of energy drinks and reported events users suffered are listed here.
Deaths due to heart attack or suicide linked to 5-Hour Energy
A miscarriage linked to 5-Hour Energy
Convulsions, life-threatening fear, deafness, and hemorrhage linked to 5-Hour Energy
Deaths due to heart attack or loss of consciousness linked to Monster Energy drink
Hospitalization due to irregular heartbeat, severe diarrhea, migraine, psychotic disorder, heart attack, and/or vomiting linked to Monster Energy drink
Disability from irregular heartbeat or stroke linked to Rockstar Energy drink
Hospitalization due to psychotic disorder, increased heart rate, or loss of consciousness linked to Rockstar Energy drink
11/17/12 11:28 JR