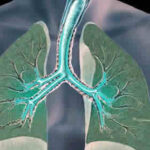 Animal research suggests that a vitamin A deficiency adversely affects lung development and promotes airway hyper-responsiveness, which may predispose to asthma.
Now, researchers at Johns Hopkins University Baltimore, in Maryland, examined the long-term effects of vitamin A supplementation early in life on asthma risk.
First, the details.
The researchers revisited 6421 people in Nepal who took part in in 2 studies of vitamin A supplementation.

In the first group, vitamin A or placebo was taken for less than 16 months during their pre-school years.
The second group was born to mothers who received vitamin A, beta-carotene or placebo before, during and after pregnancy.

At follow-up 10 to 15 years later, participants were asked about asthma symptoms and spirometry (a measure of lung function) was performed.
And, the results.
The prevalence of wheezing during the past year was 5% in participants aged 9-13 years and 7% in participants aged 14-23 years — not a significant difference.
There were no differences between the vitamin A supplemented vs the placebo groups in the prevalence of lifetime or current asthma and wheeze, or in spirometry results.
The bottom line?
The authors concluded, "Vitamin A supplementation early in life was not associated with a decreased risk of asthma in an area with chronic vitamin A deficiency."
In 2007, researchers at G. D'Annunzio University, in Chieti, Italy, stated, "The role of nutrition in bronchial asthma is related to antioxidant vitamins A, C, and E. By counteracting oxidants and reducing external attacks (bacteria, virus, toxins) in the lung, antioxidant vitamins modulate the development of asthma and the impairment of pulmonary function."
Dr. William Checkley, lead author of this study said, "Contrary to what has previously been thought, our findings show that vitamin A deficiency does not lead to an increased risk of asthma. If vitamin A status was linked to asthma, the supplement taken by the study participants, would have led to some reduction in the risk of developing the condition, which we did not see."
6/30/11 23:18 JR