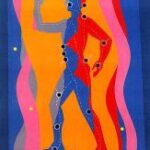 Researchers in Germany searched the records from almost 10,000 patients for predictors of a positive response.
First, the details.
9,990 patients with chronic low back pain, headache, neck pain, or pain due to osteoarthritis of the knee or hip, were randomly assigned to a treatment group.

Routine care
Acupuncture in addition to routine care

The 3-month change based on the SF-36 bodily pain subscale was recorded.
Patients' characteristics and their interaction with treatment were reviewed to determine their effect on treatment outcomes.
And, the results.
The outcome was significantly improved in the acupuncture group.
Predictors of outcome in both treatment groups:

Age
Education
Duration of illness
Baseline pain
Certain concomitant diseases

Patient characteristics significantly associated with a positive response to the acupuncture effect:

Previous positive acupuncture experience
Failure of other therapies before the study
Living in a multi-person household
Female
The bottom line?
The authors come to no definitive conclusions, except to recommend more research.
I'll go out on a limb and suggest that past experience with acupuncture, frustration due to failed past therapy, and peer pressure to have a positive experience are factors that influence satisfaction with acupuncture in patients with chronic pain.
6/29/11 22:08 JR