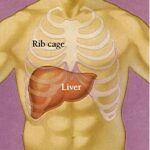 The botanical extract silymarin (milk thistle,) has anti-oxidant, anti-inflammatory, and immunomodulatory properties and is used by patients with chronic liver disease.
Researchers throughout the U.S. collaborated to evaluate the response to high doses of silymarin taken by mouth on disease activity in patients with chronic hepatitis C. The results were presented during the American Association for the Study of Liver Diseases November Annual Meeting.
First, the details.
154 patients with chronic hepatitis C infection and alanine transaminase (ALT) activity greater than 65 IU/L were randomly assigned to a treatment group.

1 of 2 doses of a standardized silymarin preparation (Legalon® 140, Rottapharm Madaus) at 420 or 700 mg administered orally 3 times daily for 24 weeks.

These doses are 4.5 to 7.5 times higher than customary.

Placebo

At the end of therapy, blood activity of ALT less than 45 IU/L (within normal range) or ALT less than 65 IU/L (less than 1.5 x upper limit of normal) was considered a success provided this was at least a 50% decline from starting values.
Changes in ALT and HCV RNA during treatment, and adherence to treatment based on dose counts, and silymarin blood levels were also examined.
And, the results.
Regardless of treatment, the average decline in ALT at the end of treatment did not differ significantly.
Only 6 participants (2 in each group) were considered successfully treated.
Over 90% of participants met or exceeded an 80% adherence to study medications, despite the substantial pill burden (15 capsules per day).
Analysis of ALT activity did not demonstrate significant changes in ALT activity among treatments.
Side effects were not different between silymarin and placebo.
The bottom line?
The authors concluded, "Although well tolerated, oral silymarin administered at higher than customary doses did not significantly alter biochemical markers of disease activity in patients with chronic hepatitis C who had failed prior treatment with interferon-based regimens."
Back in 2007, a friend asked me to look into CAM treatments for liver disease. I did, but found little to support milk thistle — the most often discussed CAM treatment. Now, for patients with chronic hepatitis C fail prior interferon-based treatment there's even less.
11/28/11 18:32 JR