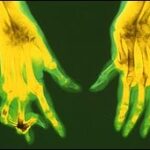 Prof. Ernst and colleague evaluated the evidence on CAM treatment options for rheumatoid arthritis and osteoarthritis.
First, the details.
5 systematic reviews met the inclusion criteria.
And, the results.
All studies arrived at cautious conclusions.
4 reviews were of high quality and one had a high risk of bias.
The bottom line?
The authors concluded, "The evidence to support the effectiveness of CAM as a treatment option for rheumatoid arthritis and osteoarthritis is ambiguous."
In general, there isn't enough scientific evidence to firmly establish that any CAM therapies are safe and effective for rheumatoid arthritis. Some mind-body therapies and dietary supplements may be beneficial additions to rheumatoid arthritis treatment regimens, but more high-quality research is needed before drawing conclusions.
The National Center for Complementary and Alternative Medicine (NCCAM) agrees, and provides more detail here.
On the other hand, The MayoClinic.com lists several CAM options for osteoarthritis.
10/10/11 21:32 JR