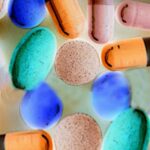 Dietary supplements are commonly taken to prevent chronic disease.
Researchers in Finland, Norway, and the Republic of Korea studied the long-term health consequences.
First, the details.
The use of vitamin and mineral supplements was compared to mortality in 38,772 women in the Iowa Women's Health Study — an ongoing study of postmenopausal women, 55-69 years, enrolled in 1986.
And, the results.
Most supplements were not linked to reduced total mortality in older women.
Vitamin B6, folic acid, iron, magnesium, zinc, and copper were associated with increased risk of mortality compared with nonuse.
Taking more calcium was associated with a lower risk of death.
The bottom line?
The authors concluded, "In older women, several commonly used dietary vitamin and mineral supplements may be associated with increased total mortality risk; this association is strongest with supplemental iron. In contrast to the findings of many studies, calcium is associated with decreased risk."
Interestingly, the researchers replicated the results for iron and calcium supplements in a separate, short-term study with follow-up at 4, 6 and 10 years.
10/11/11 22:45 JR