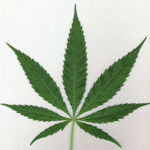 Researchers at Maastricht University Medical Center, in the Netherlands, studied the use of cannabis in adolescence and their risk for psychotic outcomes.
First, the details.
1923 individuals, aged 14-24 were studied.
The incidence and persistence of psychotic symptoms after the use of cannabis were recorded.
Cannabis use and psychotic symptoms were assessed over 10 years.
And, the results.
Among individuals with no reported psychotic symptoms and no lifetime cannabis use prior to the study, using cannabis over 3.5 years significantly increased the risk of psychotic symptoms.

The rate of psychotic symptoms from the start of the study to 3.5 years later was 31% in nonsmokers vs 20% in nonsmokers.

Continued use of cannabis significantly increased the risk of persistent psychotic symptoms during 3.5 to 8.4 years later.

From 3.5 years to 8.4 years, the rates of psychotic symptoms were 14% in nonsmokers vs 8% in nonsmokers.
The bottom line?
The authors concluded, "Cannabis use is a risk factor for the development of incident psychotic symptoms. Continued cannabis use might increase the risk for psychotic disorder by impacting on the persistence of symptoms."
More on the risk of psychosis and cannabis is here and here.
An then, there's this.
3/4/11 19:52 JR