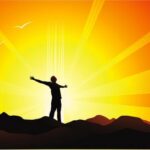 Researchers at Columbia University, in New York, previously reported that the personal importance of religion or spirituality was associated with a lower risk for major depression.
Now, they report the importance of religion among the offspring of the participants in that earlier study.
First, the details.
114 adult offspring of depressed and nondepressed parents were followed for 10 years.
Diagnosis was assessed with the Schedule for Affective Disorders and Schizophrenia-Lifetime Version, which is used for studies requiring detailed lifetime information on anxiety disorders, symptoms, and traits.
The importance of religion or spirituality, frequency of attending religious services, and denomination (all participants were Catholic or Protestant) were recorded.
And, the results.
Offspring who reported that religion or spirituality was highly important to them had about one-fourth the risk of experiencing major depression compared with other participants.

Religious attendance and denomination did not predict this outcome.

The effect was most pronounced among offspring at high risk for depression by virtue of having a depressed parent.

In this group, those who reported a high importance of religion or spirituality had about one-tenth the risk of experiencing major depression compared with those who did not.

The protective effect was found primarily against recurrence rather than onset of depression.
The bottom line?
The authors concluded, "Religion or spirituality may have a protective effect against recurrence of depression, particularly in adults with a history of parental depression."
These researchers are not the first to report this. A summary of other studies is here.
Why it is necessary to lump religion and spirituality? They are not the same and deserve to be studied separately or as a comparison.
9/27/11 23:20 JR