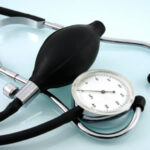 Benefits of culturally appropriate storytelling were similar to those of antihypertensive drugs, according to researchers at Bedford Veterans Affairs Medical Center, in Massachusetts.
First, the details.
231 African Americans with hypertension (71% were women) were randomly assigned to a treatment group.

Group 1: Hypertensive black patients who clearly and persuasively described their experiences with hypertension served as storytellers on DVDs and offered lessons about how to interact with physicians and how to achieve better medication adherence, diet, and exercise.
Group 2:  DVDs about general health issues unrelated to hypertension.

Patients spent an average of 88 minutes watching the storytellers.
Changes in blood pressure at the start of the study and at 3 months and 6 to 9 months were measured.
And, the results.
Among patients with uncontrolled hypertension, blood pressure reduction significantly favored Group 1 at 3 months for systolic (11 to 20 mmHg) and diastolic (6 to 11 mmHg) blood pressures.
The magnitude of the effect was similar to that of antihypertensive medications.
Patients with controlled hypertension did not significantly differ over time between study groups.
Blood pressure subsequently increased for both groups, but between-group differences remained relatively constant.
The bottom line?
The authors concluded, "The storytelling intervention produced substantial and significant improvements in blood pressure for patients with baseline uncontrolled hypertension."
A PubMed search revealed no other similar studies.
3/29/11 21:55 JR