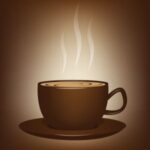 The relationship between coffee or caffeine consumption and depression is not well defined.
Researchers in Boston and New York report a connection.
First, the details.
50,739 older US women free of depressive symptoms were followed for 10 years.
Consumption of caffeine was measured based on answers to questionnaires.
Clinical depression was defined as self-reported physician-diagnosed depression and antidepressant use.
And, the results.
During 10 years of follow-up there were 2607 cases of depression.
Among women consuming not more than 1 cup of caffeinated coffee per week, the risk of depression was significantly greater than for those consuming 2 to 3 cups per day and for those consuming 4 cups per day or more.
The relative risk of depression was significantly less for women with the highest (a least 550 mg/day) vs lowest (less than 100 mg/day) of caffeine consumption.
Decaffeinated coffee was not associated with depression risk.
The bottom line?
The authors concluded, "Depression risk decreases with increasing caffeinated coffee consumption."
In an earlier study, researchers at the University of Eastern Finland, in Kuopio, reported, "Coffee consumption may decrease the risk of depression, whereas no association was found for tea and caffeine intake."
The latest study suggests that any effect on depression is related to caffeine, but the earlier study suggested the antidepressant effects might be due to something else in the coffee. So, until there is more research, the issue remains unresolved.
9/27/11 22:25 JR