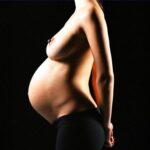 Researchers at Meir Medical Center, in Kfar Saba, Israel, studied the response to live harp music therapy and kangaroo care in the neonatal intensive care unit.
First, the details.
52 mother-infant combinations were randomly assigned to a treatment group.

Kangaroo care + live harp music therapy
Kangaroo care alone

Kangaroo care is a technique practiced on newborn (usually preterm) infants where the infant is held, skin-to-skin, with an adult.
The infants were stable and born between 32 and 37 weeks of gestation, with normal hearing.
Neonatal and maternal heart rate, oxygen saturation, and respiratory rate were recorded along with neonatal behavioral state and maternal anxiety.
Maternal age, ethnicity, education, and love of music were documented.
And, the results.
Compared with kangaroo care alone, kangaroo care + live harp music therapy had a significantly beneficial effect on maternal anxiety score.
Infants' physiological responses and behavior did not differ significantly.
No correlation was found between mothers' age, ethnicity, years of education, and affinity for music, and anxiety scores.
The bottom line?
The authors concluded, "Kangaroo care combined with live harp music therapy is more beneficial in reducing maternal anxiety than kangaroo care alone. This combined therapy had no apparent effect on the tested infants' physiological responses or behavioral state."
Contrary to these findings, researchers at Tel Aviv Sourasky Medical Center, in Israel, report that exposure to Mozart music significantly lowered resting energy expenditure in healthy preterm infants. They speculate that this "Mozart effect" might explain, in part, improved weight gain in their patients.
8/8/11 22:41 JR