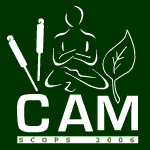 CAM is used by about 4 of 10 adults in the US; but little is known about the association between CAM use and health status.
Researchers at Harvard Medical School, in Boston, surveyed people about the relationship between their CAM use and perceived health status.
First, the details.
23,393 people responded to the survey.
The survey asked if they considered their health 'Excellent,' and if their current health was 'Better' than in the prior year.
And, the results.
37% of adults used CAM.
Compared to nonusers, CAM users were more likely to rate their health as 'Excellent.'
CAM users were more likely to report their health as 'Better' than in the prior year.
The bottom line?
The authors concluded there was a "significant association between CAM use and self-rated excellent health and health improvement over the prior year."
Of course, none of this means they actually were healthier. In fact others have reported that the use of CAM is greater among those with low perceived health status. According to researchers in Illinois and Pennsylvania…
Those in poor health are 15% more likely to report using CAM compared with people in good health.
People dissatisfied with the quality of care are more likely to use alternative medicine.
People who are chronically ill and satisfied with conventional care used CAM more than chronically ill patients who are dissatisfied with conventional care.
In order to know for sure, more complex studies that follow patients in real time will be needed.
1/10/11 10:03 JR