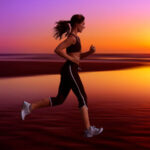 Researchers at Appalachian State University, in Boone, North Carolina, studied the effects of physical activity and fitness levels on the symptoms of upper respiratory tract infection.
First, the details.
1002 adults were followed for 12 weeks during the winter and fall seasons while monitoring upper respiratory tract infection symptoms and severity.
Participants reported the frequency of aerobic activity, and rated their physical fitness level using a 10-point scale.
The effects of exercise frequency and fitness level on the number of days with respiratory tract infection and severity of symptoms were recorded.
And, the results.
The number of days with upper respiratory tract infection during the 12-week period was significantly reduced.

-43% in subjects reporting at least 5 days/week aerobic exercise vs those who were largely sedentary (not more than 1 day/week)
-46% when comparing those in the high versus lowest fitness level

Upper respiratory tract infection severity and symptoms were also reduced 32% to 41% between high and lowest aerobic activity and physical fitness levels.
The bottom line?
The authors concluded, "Perceived physical fitness and frequency of aerobic exercise are important correlates of reduced days with upper respiratory tract infection and severity of symptoms during the winter and fall common cold seasons."
A limitation of the study is that participants self-reported their levels of physical activity and extent of physical activity. Although the authors counter, "other epidemiologic and randomized exercise training studies consistently report a reduction in upper respiratory tract infection incidence or risk of 18% to 67%."
2/28/11 20:20 JR