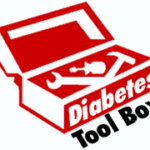 It has been observed that low levels of vitamin D and calcium are associated with higher risk of type 2 diabetes.
Now, researchers in Boston report an explanation underlying the relationship.
First, the details.
92 adults at high risk of diabetes were randomly assigned to a treatment group for 16 weeks.

Cholecalciferol (a form of vitamin D, also called vitamin D3) 2000 IU once daily
Calcium carbonate 400 mg twice daily
Placebo

Pancreatic beta cell ability to secrete insulin was measured using a glucose-tolerance test.
Insulin response, insulin sensitivity, and measures of changes in blood levels of glucose were also measured.
Neither the patients nor researchers knew the treatment given — double blind.
The bottom line?
Participants had an A1c of 5.9%.

A1c test is used as a standard tool to determine blood sugar control for patients with diabetes.
Levels at or higher than 6.5% are diagnostic for diabetes.

Higher levels of vitamin D were associated with significantly improved insulin secretion.
A1c was not changed in either group.
There was no significant difference in any outcomes with calcium compared with no calcium.
The bottom line?
The value of this study is that it shows a logical progression from observation to analytical testing of a hypothesis. It has limited application to treatment at this time.
Accordingly, the authors concluded, "In adults at risk of type 2 diabetes, short-term supplementation with cholecalciferol improved beta cell function."
7/19/11 20:42 JR