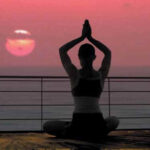 Apparently so, according to researchers at the University of California, in San Francisco.
And, others agree.
First, the details.
12 adults with stable heart failure completed 8 weeks of yoga classes.

3 out of 4 patients were Caucasian.

The following outcomes were measured.

Safety (cardiac and orthopedic adverse events)
Physical function (strength, balance, endurance, flexibility)
Psychological function (quality of life, depression scores, mindfulness)
And, the results.
No participant had any adverse events.
Endurance and upper and lower body strength significantly improved.
Balance significantly improved by 14 seconds.
Symptom stability (a part of the quality of life evaluation) improved significantly.
Although no subject was depressed, overall mood improved.
The participants subjectively reported improvements in overall well-being.
The bottom line?
It's a very small study with no placebo group for comparison. However, others have studied yoga in heart failure patients and come to similar conclusions.
When yoga was compared to a control group in 40 African American patients, flexibility, treadmill time, VO2peak (a measure of aerobic capacity), and several biomarkers of inflammation significantly improved in the yoga group compared to the control group. The yoga group also reported improved quality of life.
In a group of 19 patients with New York Heart Association Class I-III heart failure, yoga improved exercise tolerance and had a positive effect on levels of inflammatory markers. In these patients, who experienced symptoms following more than ordinary to minimal activity, there was also a trend toward improved quality of life.
A PubMed search revealed no studies where yoga had harmful effects in people with heart failure. However, it makes sense to consult with someone who understands enough about heart failure and yoga to make appropriate recommendations for the healthful levels of yoga practice.
In other words, supervision by a qualified healthcare professional and a knowledgeable yoga instructor is essential.
8/28/10 11:35 JR