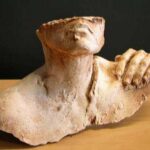 It's suggested, based on laboratory and clinical studies, that ginseng may have beneficial effects on cognitive performance (reasoning).
This Cochrane review evaluated the evidence in healthy people.
First, the details.
9 well-designed studies were included in the review.

8 studies enrolled healthy participants.
1 study included people with age-associated memory impairment (AAMI).

Only 5 of the studies had extractable information and were included in the analysis.
4 studies investigated the effects of ginseng extract, and 1 assessed the efficacy of ginseng compound HT008-1.
Pooling the data was impossible because of difference among studies in outcome measures, study duration, and ginseng dosage.
And, the results.
Results of the analysis suggested improvement in some aspects of cognitive function, behavior, and quality of life.
No serious adverse events associated with ginseng were found.
The bottom line?
Despite the fact that the studies were well designed and suggest benefit with ginseng, the authors concluded, "There is a lack of convincing evidence to show a cognitive enhancing effect of Panax ginseng in healthy participants and no high quality evidence about its efficacy in patients with dementia."
Dr. Darrell Hulisz from Case Western Reserve University School of Medicine in Cleveland, Ohio has listed several key points to remember when taking ginseng and other herbals.
12/9/10 18:29 JR