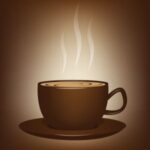 Studies of the association between coffee drinking and mortality in patients with cardiovascular disease have reported conflicting results.
Researchers in Boston assessed the association between filtered caffeinated coffee mortality during up to 24 years of follow-up in women with cardiovascular disease from the Nurses' Health Study.
First, the details.
The Nurses' Health Study included 11,697 women.
Coffee consumption was first assessed in 1980 using a food-frequency questionnaire and repeated every 2 to 4 years.
Cumulative coffee consumption was calculated from the diagnosis of cardiovascular disease to the end of the follow-up to assess long-term effects.
In addition, the most recent coffee measurement was related to mortality in the subsequent 2 years to assess shorter-term effects.
And, the results.
There were 1159 deaths, of which 579 were due to cardiovascular disease.
The relative risk of death due to any cause was not affected by coffee intake.
Similarly, caffeine intake was not associated with total deaths or death due to cardiovascular disease.
There was no association between the most recent coffee and caffeine intakes and death due to cardiovascular disease or all causes in the next 2 years.
The bottom line?
The authors concluded, "Consumption of filtered caffeinated coffee was not associated with cardiovascular disease or all-cause mortality in women with cardiovascular disease."
6/20/11 22:16 JR