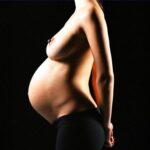 During labor, women experience intense, stressful, and steady pain.
Researchers at Ilam University of Medical Sciences, in Iran compared 2 nonpharmacologic treatment options.
First, the details.
101 women who were pregnant with their first baby and hospitalized for vaginal delivery were randomly assigned to a treatment group.

Massage therapy
Music therapy

Pain was measured using a visual analog scale.
And, the results.
Massage was associated with a significantly lower level of pain vs the music therapy.
There was also a significant difference between the groups in pain severity after treatment.
The most severe labor pain was significantly relieved after massage therapy.
The bottom line?
The authors concluded, "Massage therapy was an effective method for reducing and relieving labor pain compared with music therapy."
Furthermore, they would recommend it as an alternative, safe, and affordable method of pain relief.
The benefits of massage in pregnant women have been know for at least 10 years. Dr. Tiffany Field who is Director of the Touch Research Institutes tells us that research in pregnant women has documented fewer perinatal complications and reduce prematurity.
5/1/10 20:22 JR