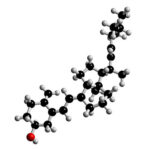 Research suggests that patients with schizophrenia treated with antipsychotics have low vitamin D blood levels and may have a higher risk of hip fractures in their later years than the general population.
Researchers at Assistance Publique Hopitaux de Paris, in France, evaluated whether the vitamin D levels in adolescent psychiatric inpatients were lower than the 30 ng/mL recommended to protect against osteoporosis.
First, the details.
Vitamin D blood levels in 136 consecutive inpatients were measured.
The influence of vitamin D blood levels on well-documented risk factors (eg, age, gender, ethnic origin, body mass index, or season) and suspected risk factors (eg, disease type or antipsychotic treatment).
And, the results.
All but 6 patients had vitamin D levels less than 30 ng/mL.
Vitamin D levels were significantly lower in all patients during the first quarter of the year vs the rest of the year.
Vitamin D levels were also significantly lower for blacks/North Africans (13 ng/mL) than for Caucasians/Europeans (17 ng/mL).
There were no differences between patients regarding disease category or antipsychotic treatment.
The bottom line?
The authors concluded, "Vitamin D blood level in an adolescent population with severe mental illness is lower than current recommendations of optimal level for bone health regardless of treatment or disease type."
They continue, "Because adolescence is a period of bone construction and could represent a critical window of opportunity for maximizing bone mass, especially among patients with severe mental illness, we recommend vitamin D supplementation."
4/17/11 22:28 JR