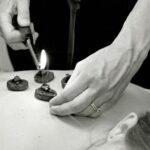 Prof. Ernst and colleagues report, "All studies [of moxibustion] have a high risk of bias."
And that's the good news.
First, the details.
5 studies compared the effects of moxibustion with conventional therapy.
In each, moxibustion was used as adjuvant treatment to conventional medicine in patients with any type of cancer.
The data from these studies were combined for a meta-analysis.
And, the results.
4 studies failed to show that moxibustion + conventional therapy was superior to conventional therapy alone.
2 studies assessed the occurrence of side effects of chemotherapy and showed favorable effects in patients treated with moxibustion.
A meta-analysis showed a significantly lower frequency of nausea and vomiting from chemotherapy in those who received moxibustion.
The bottom line?
"The evidence is limited to suggest moxibustion is an effective supportive cancer care in nausea and vomiting," concluded the authors.
However, because of the high risk of bias, "there is not enough evidence to draw any conclusion."
Dr. John Gay, at Washington State University in Pullman tells us that bias arises when "any process or effect at any stage of a study… produces results or conclusions that differ systematically from the truth."
Furthermore, "Bias can be reduced only by proper study design."
Bias is a frequent criticism of CAM studies.  Here are several examples.
Confounding bias

Failure to account for the effect of a variable(s) related to the outcome being studied.

Measurement bias

When measurement methods (instrument, or observer of an instrument) consistently differ between groups in the study.

Reader bias

The tendency to accept information that supports pre-conceived opinions and reject or trivialize findings that don't support preconceived opinions or which the researchers don't understand.

Sampling bias

Study comparisons between groups that differ in outcome for reasons other than those under study.

Zero time bias

When the groups differ in stage of disease or the distribution of confounding factors.
4/26/10 19:58 JR