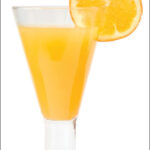 There's a short list of food sources of vitamin D.
Researchers from Boston compared the bioavailability of vitamins D2 and D3 from orange juice vs capsules.
First, the details.
A group of healthy adults received 1000 IU vitamin D3, 1000 IU vitamin D2, or placebo in orange juice or a capsule for 11 weeks at the end of winter.
Neither the patients nor researchers knew the treatment given — double blind.
And, the results.
64% of participants began the study deficient in vitamin D (less than 20 ng/mL).
Vitamin D from orange juice and capsules were both bioavailable to the body.
There was no difference in blood levels of vitamin D3 obtained from juice or capsules.
There was no difference in blood levels between vitamin D2 from juice or capsules.
There was no significant difference in parathyroid hormone concentrations between the groups.

Parathyroid hormone stimulates production of active vitamin D in the kidney, which facilitates calcium absorption from the intestines.
The bottom line?
So, fortified orange juice is as good a source of vitamin D as a capsule.
The NIH has published a dietary supplement fact sheet on vitamin D, which includes background and other food sources of the vitamin.
More on the science of vitamin D is here. And a new Medscape review is here.
5/10/10 14:03 JR