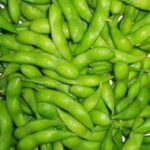 Researchers at Peking Union Medical College and Chinese Academy of Medical Sciences, in China reviewed the evidence.
First, the details.
A meta-analysis of the data from 11 studies was reviewed.
And, the results.
There was an average decrease of 2.5 mmHg in systolic blood pressure and 1.5 mmHg in diastolic blood pressure in the soy isoflavones-treated group compared to placebo – insignificant differences.
Among people with high blood pressure who were treated with soy there was a significantly greater reduction in blood pressure vs placebo.
In contrast, treatment with soy isoflavones did not lead to a significant reduction in blood pressure in people with normal blood pressure.
The bottom line?
The authors concluded, "Soy isoflavones had an effect of lowering blood pressure in hypertensive subjects, but not in normotensive subjects."
By comparison, regular aerobic exercise, weight loss of 3% to 9% of body weight, reduced dietary salt, the DASH diet, and moderation of alcohol intake are all lifestyle interventions that lower blood pressure from 3 to 11 mmHg systolic and 2.5 to 5.5 mmHg diastolic, depending on the lifestyle change selected.
The Linus Pauling Insitutute at Oregon Statue University lists answers to all you ever thought to ask about soy isoflavones.
2/13/11 21:51 JR