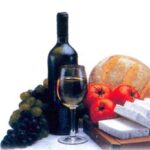 Following a diet that is moderately rich in carbohydrates and dietary fiber, and with a low glycemic index improves cholesterol levels in patients with type 2 diabetes, according to researchers at Federico II University, in Naples, Italy.
First, the details.
18 adults with well-controlled type 2 diabetes followed 2 diets for 4 weeks each in random order.

A diet relatively rich in carbohydrates and fiber, and with a low glycemic index (high-carbohydrate/high-fiber plant-based diet) similar to a "Mediterranean diet".
A diet relatively low in carbohydrate and rich in monounsaturated fat (low-carbohydrate/high-monounsaturated fat diet)

Blood levels of glucose, insulin, lipids, and lipoprotein fractions were measured at fasting and over 6 hours after a test meal.
And, the results.
During the high-carbohydrate/high-fiber diet there was a significant decrease in post-meal blood sugar levels, insulin responses, and variability in blood sugar levels.
The high-carbohydrate/high-fiber diet was also associated with a significantly lower increase in post-meal cholesterol and triglyceride levels.
The bottom line?
The authors concluded, "A diet rich in carbohydrate and fiber, essentially based on legumes, vegetables, fruits, and whole cereals may be particularly useful for treating diabetic patients because of its multiple effects on different cardiovascular risk factors including postprandial [post-meal] lipids abnormalities."
So, following a traditional Mediterranean diet lowers the risk of type 2 diabetes, as reported here, And has benefits in people with established type 2 diabetes, as reported in this study.
12/29/09 19:46 JR