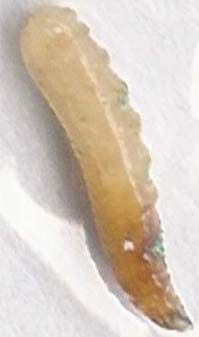 No, according to researchers in the UK who conducted the VenUS II study.
But should that be the ultimate measure of its value in patients with venous ulcers?
First, the details.
267 patients with venous or mixed venous and arterial ulcers and at least 25% coverage of slough or necrotic tissue participated.
They were randomly assigned to debridement (removal of dead tissue) using 1 of the following treatments.

Bagged larvae
Loose larvae
Hydrogel

Hydrogel dressings provide and maintain a moist wound environment, which helps clean and remove dead tissue.
Costs were estimated over 12 months and cost effectiveness was calculated.
And, the results.
Larval therapy cost £97 (E110; $141) more per participant per year than hydrogel.
Complete debridement was significantly faster with loose and bagged larval vs hydrogel (14, 28, and 72 days, respectively).
However, the time to healing did not differ.
There was no difference in the proportion of patients with methicillin-resistant Staphylococcus aureus (MRSA) eradicated between groups.
Participants treated with larval therapy had significantly better quality of life vs the hydrogel group.
Adverse events were similar among groups.
The costs associated with larval and hydrogel therapies were not significantly different, although there was uncertainty in the estimates.
The bottom line?
The authors concluded, "Debridement of sloughy or necrotic leg ulcers with larval therapy is likely to produce similar health benefits and have similar costs to treatment with hydrogel."
Others have also reported that the actual time until healing doesn't differ between maggot therapy and standard therapy.
In the UK, the cost to treat a venous ulcer ranges from 814 to 1994 pounds ($1100 to $2700) based on 2005 data.
Considering that larval therapy adds less than $200 dollars to the cost of treatment, and the time to healing is not impeded by the larvae, should these be the criteria for justifying larval therapy?
Perhaps a better measure of its value is pain management. Pain can cause significant discomfort in patients with venous ulcers. In this study, although pain was greater with larval therapy, this was "probably transient," and did not affect the quality-of-life measurements, according to the authors.
Perhaps we need a study where pain control and quality of life are used as the primary outcomes of larval therapy. A PubMed search revealed none.
3/23/09 20:33 JR