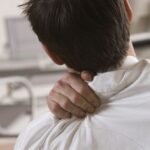 Radial extracorporeal shockwave treatment was compared to supervised exercises by researchers at Ullevaal University Hospital, in Oslo, Norway.
Extracorporeal radial shockwave therapy uses a series of high-energy sound percussions.
First, the details.
104 patients with subacromial shoulder pain (rotator cuff injury) for at least 3 months were assigned to a treatment group.

Radial extracorporeal shockwave treatment: 1 session weekly for 4 to 6 weeks.
Supervised exercises: 2, 45-minute sessions weekly for up to 12 weeks.
And, the results.
Exercise was significantly more effective than shockwave therapy at 18 weeks.
A significantly higher proportion of those treated with supervised exercises improved.
64% of patients in the exercise group and 36% of patients treated with shockwaves achieved a reduction in shoulder pain.
4% of patients in the exercise group and 6% in the shockwave group deteriorated after treatment.
More patients in the supervised exercise group returned to work.
1 patient in the exercise group reported a considerable increase in pain and stiffness consistent with adhesive capsulitis (restricted shoulder movement) and had only 4 treatments.
The bottom line?
The authors concluded, "Supervised exercises were more effective than radial extracorporeal shockwave treatment for short term improvement in patients with subacromial shoulder pain."
The results are consistent with other studies referenced in the article. Although since publication of this study, researchers from Australia reported, "A standardized program of manual therapy and home exercise did not confer additional immediate benefits for pain and function compared with a realistic placebo treatment."
11/6/09 22:50 JR