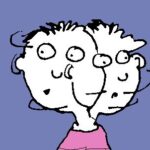 During the American Psychiatric Association (APA) Annual Meeting, researchers from Maimonides Medical Center, in Brooklyn, New York reported the effects of tai chi on self-control and mood in adolescents with attention-deficit/hyperactivity disorder (ADHD).
First, the details.
19 adolescents in day camp and at least 1 Diagnostic and Statistical Manual of Mental Disorders diagnosis of mental illness were assigned to a treatment group for 6 weeks.

Tai chi instruction from a tai chi chuan master in 45-minute sessions twice a week
Control subjects attended day camp but participated only in the standard activities

ADHD was the diagnosis for approximately 50% of the group.
Most other diagnoses included adjustment disorder, depressive disorder, oppositional defiant disorder, and anxiety disorder.
There were no significant differences between the groups in demographics.
And, the results.
Tai chi practice improved hyperactivity and ADHD at the end of week 6.
The hyperactivity score was significantly reduced in the tai chi group, but increased in the control group.
The ADHD index subscore also significantly decreased in the tai chi group but increased in the control group.
No lasting effect was shown by week 12.

Probably the participants didn't continue tai chi practice and went back to taking their ADHD medication, which could dilute a treatment effect.

Half the group had a diagnosis of ADHD, and those who practiced tai chi also had improved cognition (reasoning).
The bottom line?
"Because tai chi has no adverse effects and no significant costs, it is a potential economic alternative treatment modality, especially for patients intolerant of ADHD medications or those whose parents object to the use of medications, or as a way to maintain a relative steady state during medication vacations," concluded the authors.
Researchers from Tufts University in Boston reviewed the evidence on tai chi's effects on well-being and concur, "Tai chi appears to be associated with improvements in psychological well-being including reduced stress, anxiety, depression and mood disturbance, and increased self-esteem."
5/28/10 19:16 JR