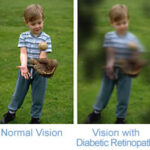 Diabetic retinopathy (damage to the retina of the eye) is a complication of diabetes mellitus, which can eventually lead to blindness.
During the Annual Meeting of the American Academy of Ophthalmology, researchers at Emory University, in Atlanta, Georgia, reported a significant relationship.
First, the details.
221 patients being evaluated for diabetes were divided into 5 groups.

No diabetes or retinopathy
No diabetes but another eye disease such as macular degeneration of glaucoma
Diabetes but no retinopathy
Diabetes with nonproliferative (early to middle stage) retinopathy
Diabetes and proliferative (advanced) retinopathy

Patients with type 1 diabetes, or a disorder that compromises vitamin D metabolism, or were taking more than 1,000 units of supplemental vitamin D per day were excluded from the study.
And, the results.
Vitamin D blood levels decreased in a direct relationship to eye health.
Those with no diabetes or retinopathy (the 1st group) had the highest average levels of OH(25)D (32 ng/mL), while those with diabetes and proliferative retinopathy (the 5th group) had the lowest average levels (21 ng/mL).
Patients with nonproliferative retinopathy had higher levels of OH(25)D (24 ng/mL), which was still lower than the levels in patients with other eye diseases, or with diabetes and no eye disease.
Patients taking a multivitamin daily had significantly higher average OH(25)D levels (31 ng/mL) compared with those who did not use daily multivitamins (mean 22 ng/mL)
Differences in A1c, and in serum creatinine and glomerular filtration rates (measures of kidney function) didn't appear to influence the results.
The bottom line?
So, there appears to be a relationship between vitamin D and the risk of diabetic retinopathy.
The authors tell us vitamin D plays an important role in preventing diabetic retinopathy because it's essential for normal insulin release and sugar metabolism, and decreases the levels of inflammatory cytokines, which are increased in diabetes. Furthermore, the active metabolite of vitamin D, calcitriol, is a "potent inhibitor" of retinal revascularization.
A PubMed search revealed no other studies of vitamin D and the risk of diabetic retinopathy in humans.
11/2/10 21:31 JR