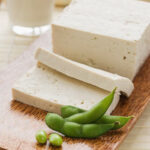 Researchers from the Medical University Vienna, in Austria report that phytoestrogens are generally safe.
First, the details.
Data from 174 studies of with 9629 participants were combined and analyzed.
And, the results.
The incidence of side effects with phytoestrogens was 37% vs 38% in the control group.
There were significantly higher rates of gastrointestinal side effects among phytoestrogen users.
There were no differences in the risk of gynecological, musculoskeletal, neurological, and unspecific side effects were not significantly different between groups.
The rates of hormone-related side effects such as endometrial hyperplasia, endometrial cancer, and breast cancer were not significantly different between groups.
The bottom line?
The authors concluded, "Based on our findings, they [women] can be assured that there is no indication of serious unwanted side effects of phytoestrogen treatment such as those found in women on hormone replacement therapy, for example, thrombosis, myocardial infarction, stroke, and breast cancer."
Foods known to contain phytoestrogens and their content per gram are listed here.
10/29/09 19:49 JR