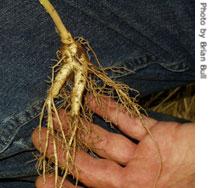 Researchers from Kyung Hee University in Seoul, Republic of Korea studied Asian ginseng (Panax ginseng) and found no interaction with the blood thinner, warfarin (Coumadin).
First, the details.
25 patients with stroke were randomly assigned to treatments for 2 weeks.

Ginseng group was given both P ginseng and warfarin.
Control group was given only warfarin.

The warfarin daily dose was to 2 mg the first week and 5 mg the second week.
And, the results.
The international normalized ratio (INR) and prothrombin time (PT) significantly increased compared to baseline in both groups.
However, there was no statistically significant difference between groups.

INR measures the time it takes for blood to clot and compares it to an average. Greater exposure to warfarin increases the INR, reflecting a longer time to clot.
PT tests the clotting tendency of blood. Again, greater exposure to warfarin increases the PT, reflecting a longer time to clot.
The bottom line?
This study is important because it appears to be the first to show that in patients, P ginseng does not change the pharmacologic response (INR or PT) to warfarin.
In most patients, the average warfarin dose is 4 to 6 mg per day. So, the doses used in this study reflect common practice.
An earlier study in healthy volunteers measured warfarin blood levels and found that concomitant administration of P ginseng was associated with more rapid clearance of warfarin from the body. And a review of the literature found evidence that P ginseng lowered blood levels of warfarin. Neither of these reports presented evidence of a change in INR or PT with P ginseng.
The picture is complicated however by a study of American ginseng (Panax quinquefolius), which found it "reduces warfarin's anticoagulant effect" (INR) in healthy volunteers.
Is there a difference between the two forms of ginseng? Or might the results of this latest study be affected by subpotent capsules of P ginseng?
Ginseng is not a life-saving medicine and has a poor record of manufacturing quality control. For now, it would seem prudent to avoid taking warfarin and ginseng at the same time. People who take ginseng should tell their doctor before starting warfarin therapy.
Since posting this summary, another study in Korea reported no evidence of an interaction between warfarin and Korean red ginseng and concluded, "Korean red ginseng could be used with close monitoring and under appropriate education in patients who take warfarin.
9/10/08 19:06 JR; updated 10/3/10 22:37 JR