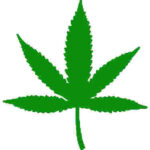 The Cochrane review concludes there's not enough supporting data.
First, the details.
Only 2 studies in a total of 28 patients met the inclusion criteria.
Both compared a cannabinoid, delta-9-Tetrahydrocannabinol (Δ9THC), either as monotherapy or combined with other therapy vs placebo.
And, the results.
Both studies reported a positive effect from cannabinoid.
But improvements in tic frequency and severity were small and were only detected by some of the tests used to measure outcomes.
The bottom line?
Gilles de la Tourette Syndrome is a disorder in which patients have involuntary movement and vocal tics. Drugs used in the treatment Tourette Syndrome either lack efficacy or are associated with intolerable side effects.
Support for cannabinoids comes from anecdotal reports only.
It has been suggested that for Tourette's and many other diseases, "We need to work on the development of more selective cannabinoid receptor agonists/antagonists and related compounds."
10/27/09 21:09 JR