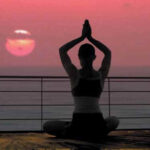 The evidence is preliminary but encouraging.
Here's a review from researchers at Brown University School of Medicine, in Rhode Island.
First, the details.
8 studies were included in the review.

5 in people with clinical depression
3 in people with elevated depression symptoms
And, the results.
The results are encouraging, according to the authors, but they should be viewed as very preliminary.
The studies, as a group, suffer from poor study design and implementation.
The bottom line?
The authors believe that more research is needed to confirm the value of yoga in patients with depression.
Several characteristics of yoga support their view.
Limitations of current treatment options
Positive effects of yoga on mindfulness and exercise
Plausible biological, psychological, and behavioral mechanisms by which yoga may have an impact on depression
1/26/10 16:54 JR