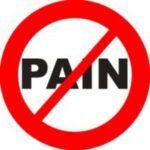 Researchers at The University of Hong Kong, in China, studied the effectiveness of pain management education in people with musculoskeletal trauma that required orthopedic surgery.
First, the details.
125 patients were assigned to a treatment group.

30-minute educational program about pain, coping strategies and breathing relaxation exercises
A control group

Changes in pain, anxiety, self-efficacy (belief in one's ability to achieve an outcome), analgesic use, and length of hospital stay were measured before surgery and at intervals up to 3 months after surgery.
And, the results.
The education group reported significantly less pain and anxiety, and better self-efficacy during hospitalization (day 7) vs the control group.
Those in the education group requested more pain medication on hospital day 2 only.
Length of stay didn't differ between the groups.
After 3-months, reduced anxiety significantly favored the education group.
The bottom line?
The authors concluded, "Patients may benefit from this educational intervention in terms of relieving pain, anxiety and improving self-efficacy; and the educational intervention could be incorporated as part of routine care to prepare musculoskeletal trauma patients for surgery."
The focus of the education is important. The International Association for the Study of Pain (IASP) tells us, "Pain research, education, and care are… intertwined with attitudes and ethics to a degree nearly unique among biomedical fields."
The IASP continues, "Given pain's moral dimension, pain-related educational tools that merely convey factual information often fall flat… We are now just beginning to understand the mechanisms through which social and cultural influences shape unconscious perceptions and attitudes toward people in pain."
8/9/10 20:43 JR