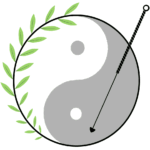 It's the most common hormonal disorder among women of reproductive age. The cause is unknown, but afflicted women have difficulty becoming pregnant.
Researchers at the University of New South Wales, in Sydney, Australia reviewed the evidence for acupuncture.
First, the details.
4 studies were included in the review.
And, the results.
Acupuncture was associated with increased blood flow to the ovaries, reduced ovarian volume, and fewer ovarian cysts.
Several studies showed significant hormonal effects.

Increased beta-endorphin levels
A potential regulatory effect on FSH, LH, and androgen (their relationship is reviewed here)
Increased beta-endorphin levels secondary to acupuncture effects on the hyperthalamic-pituitary-adrenal axis through promoting the release of ACTH.

It was also well tolerated.
The bottom line?
The authors criticized the quality of the research and concluded; "well-designed, randomized controlled trials are needed to elucidate the true effect of acupuncture on polycystic ovarian syndrome."
Researchers from Goteborg University, in Sweden observed, "Current pharmacological approaches are effective but have adverse effects. Therefore, nonpharmacological treatment strategies need to be evaluated."
Their review of the evidence in 2008 concluded, "Experimental observations in rat models of steroid-induced polycystic ovaries and clinical data from studies in women with polycystic ovarian syndrome suggest that acupuncture exert[s] long-lasting beneficial effects on metabolic and endocrine systems and ovulation."
The article PDF is available here.
8/14/10 18:55 JR