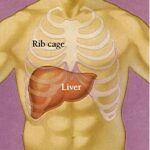 Researchers from Italy report that low vitamin D is linked to severe fibrosis and a poor response to interferon treatment.
First, the details.
197 patients with biopsy-proven hepatitis C and 49 healthy individuals were studied.
167 patients received treatment with pegylated interferon (Peg-Intron) + ribavirin (Copegus), the cornerstone of therapy for chronic hepatitis C.
Vitamin D (25[OH]D) blood levels were measured.
Liver enzymes (CYP27A1 and CYP2R1) were measured in 34 patients and 8 healthy individuals.
And, the results.
Vitamin D levels were significantly lower in women and in the presence of necroinflammation — evidence of cell death.
Higher CYP27A1 levels, but not CYP2R1, were associated with higher levels of vitamin D, while lower levels of CYP27A1 were related to greater necroinflammation.
Low vitamin D levels, low cholesterol levels, older age, high ferritin (iron-containing protein), and necroinflammation were all independent predictors of severe fibrosis, which can lead to cirrhosis.
Hepatic steatosis (fatty tissue changes) and lower levels of vitamin D and cholesterol predicted that patients would not achieve a sustained response.
The bottom line?
After sifting through all the details, the authors concluded that low vitamin D is linked to severe fibrosis and low sustained response to interferon-based therapy.
An earlier laboratory study reported that "vitamin D(2) possessed anti-hepatitis C virus activity in a cell culture system." Those authors concluded that vitamin D should be considered to enhance the effects of interferon therapy. And this latest study supports that conclusion.
12/26/09 21:26 JR