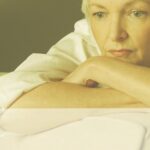 Researchers from Chulalongkorn University, in Bangkok, Thailand studied changes in bone resorption and the quality of life of the postmenopausal women.
First, the details.
33 women between 50 and 60 years old were assigned to a treatment group.

The experimental group attended a 12-week weight-bearing yoga training program 3 days a week, 50 minutes a day.
The control group lived their normal lives.
And, the results.
Neither group had osteopenia or osteoporosis.

Osteopenia is a condition where bone mineral density is lower than normal. It is considered a precursor to osteoporosis.
Osteoporosis is a bone disease that increases the risk of fracture.

After 12 weeks the average bone resorption marker (beta-crosslaps) was reduced significantly more with yoga vs the control group.

Beta-crosslaps is an established laboratory test of bone metabolism.

Based on data from the medical outcomes study short-form survey (SF-36) there were significant differences in physical functioning, bodily pain, general health, and vitality with yoga.
The bottom line?
The authors concluded, "Weigh-bearing yoga training had a positive effect on bone by slowing down bone resorption, which was a very essential indicator for human health because it reduced the osteoporosis risks in the postmenopausal women."
The next study should measure actual changes in rate of fracture between yoga and control groups. Of course that would require more patients and more prolonged follow-up. But that's a study worth doing.
12/26/09 20:26 JR