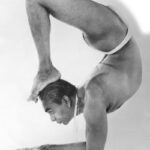 Iyengar is a form of yoga that uses props, such as belts and blocks, as aids in performing the positions (asanas).
Researchers from West Virginia University, in Morgantown report several benefits.
First, the details.
90 subjects were randomly assigned to a treatment group.

24 weeks of biweekly yoga classes designed for chronic low back pain
A control group receiving standard medical care

Participants were followed for 6 months after completion of their treatment.
Responses to treatment were assessed using the Oswestry Disability Questionnaire, a Visual Analog Scale, the Beck Depression Inventory, and a pain medication-usage questionnaire.
And, the results.
There were significantly greater reductions in functional disability and pain intensity in the yoga group vs the control group at 24 weeks.
A significantly greater proportion of yoga subjects also reported clinical improvements at both 12 and 24 weeks.
Depression was significantly lower in yoga subjects.
Both groups had a similar reduction in the use of pain medicine.
6 months after the study, the yoga group had statistically significant reductions in functional disability, pain intensity, and depression compared to standard medical care.
The bottom line?
The authors concluded, "Yoga improves functional disability, pain intensity, and depression in adults with chronic low back pain."
Recently published studies have also reported positive results, here and here.
11/13/09 23:28 JR