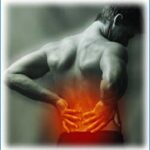 Osteoarthritis (degenerative joint disease) occurs as cartilage breaks down and wears away. This causes the bones under the cartilage to rub together, resulting pain, swelling, and loss of joint motion.
Although glucosamine is increasingly used by these patients, researchers at Oslo University Hospital Outpatient Clinic in Norway tell us little was known about the effectiveness of glucosamine for this condition until now.
First, the details.
250 patients older than 25 years of age with low back pain for longer than 6 months and degenerative lumbar osteoarthritis were assigned to a treatment group for 6 months.

1500 mg of oral glucosamine daily
Placebo

Response was measured after 6 months of treatment and 6 months later.
Changes in pain-related disability were measured using the Roland Morris Disability Questionnaire (RMDQ).
Additionally, pain-rating scales at rest and during activity, and the quality-of-life EuroQol-5 Dimensions (EQ-5D) instrument were used.
Neither the patients nor researchers knew the treatment given — double blind.
And, the results.
Average starting RMDQ scores were 9.2 for glucosamine and 9.7 for the placebo group — not significantly different.
6 and 12 months later, the RMDQ score didn't differ between groups.
6 and 12 months later, there was no difference between groups in low back pain at rest or during activity, and in quality-of-life.
Mild adverse events were reported in 40 patients in the glucosamine group and 46 in the placebo group — not significantly different.
The bottom line?
Glucosamine is the source of a compound that makes up cartilage in joints. It's one of the most frequently used supplements in the US. Yet, clear evidence of benefit is lacking. You can click the "Glucosamine" link on the right column to read more.
It's possible suggest researchers at the University of Utah that the one problem with negative studies in the field of osteoarthritis is poor study design — the population being studied is too diverse.
A more narrowly targeted population of patients might be needed in order to show benefit. For example, benefit with chondroitin appears to be limited to people with milder pain and less severe osteoarthritis of the knee.
7/10/10 14:28 JR