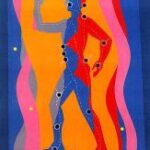 It's a common cause of heel pain.
Researchers from Hong Kong Baptist University report benefit with acupuncture.
First, the details.
53 people were randomly assigned to a treatment group.

Needling at the acupoint PC 7: Purported to have a specific effect for heel pain.
Needling at the acupoint Hegu (LI 4): Has analgesic properties and served here as the control group.

Treatment was an identical method of manual needling applied to the two acupoints 5 times a week for 2 weeks.
And, the results.
There were significant differences in reduction in pain scores, favoring acupoint PC 7 at 1 month for morning pain, overall pain, and pressure pain threshold.
No serious side effects were observed in either group.
The bottom line?
The authors concluded, "Acupuncture can provide pain relief to patient[s] with plantar fasciitis, and… PC 7 is a relatively specific acupoint for heel pain."
More on plantar fasciitis and electroacupuncture treatment can be found here.
11/27/09 22:50 JR