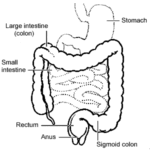 Getting more oleic acids from olive or peanut oils for instance, might lower the risk of this inflammatory disease of the colon and rectum by as much as 90%, reported researchers at the University of East Anglia in Norwich, England, during Digestive Disease Week.
Oleic acid is an unsaturated omega-9 fatty acid found in various animal and vegetable sources.
First, the details.
25,639 adults were recruited into the EPIC-Norfolk study (European Prospective Investigation Into Cancer).
Participants completed detailed 7-day food diaries, which were interpreted by nutritionists.
The occurrence of ulcerative colitis was adjusted for cigarette smoking and also omega-3 and omega-6 fatty acids, which influence the inflammatory process.
And, the results.
22 participants (45% women) developed ulcerative colitis after about 4 years (range 2 to 8 years).
The extent of the inflammation was left-sided, up to the splenic flexure, in 47% of patients (upper right corner as viewed in the drawing).
There was a significant relationship between higher oleic acid levels and lower risk of ulcerative colitis.

Those with the highest levels had a 90% reduced risk of ulcerative colitis.
The bottom line?
The authors concluded, "Increasing the dietary intake of oleic acid may prevent ulcerative colitis. "Further, they hypothesize, "Oleic acid supplementation could be a possible treatment for patients with this illness."
The researchers calculated that about half of the cases of ulcerative colitis could have been prevented if patients took larger amounts of oleic acid. In this study, 2 or 3 tablespoons of olive oil were associated with an effect.
The relationship between omega-3, -6, and -9 is complicated, and diet information was reported for just a week, even though the population in this study was large and follow-up prolonged. Future research is needed to resolve the outstanding issue in fatty acid relationships and ulcerative colitis.
5/15/10 15:43 JR