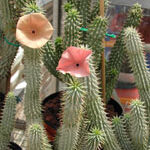 Researchers from Dalhousie University, in Halifax, Nova Scotia reviewed the evidence in response to a request from women who was looking for advice.
Here's what they found.
There are no published high quality studies of the effectiveness of Hoodia for weight loss.
1 small unpublished study reported promising results and no side effects.
The appropriate dose of Hoodia for weight loss isn't known.
Short- and long-term safety and use in patients with concomitant diseases have not been defined.
The medical literature suggests that some commercial products may not actually contain Hoodia at all.
The bottom line?
The authors conclude, "Hoodia is not yet listed in the Canadian Licensed Natural Health Products Database meaning products sold in Canada may not meet Canadian regulatory standards."
Nothing has changed since 2008, as summarized here.
More background on Hoodia is here.
5/16/10 19:34 JR