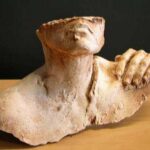 It's a controversial subject, but researchers at Tottori University, in Yonago, Japan, report positive results in a small study.
First, the details.
28 elderly people, 17 of whom had Alzheimer's disease participated.
After a 28-day waiting (wash-out) period, aromatherapy was performed for 28 days, with a subsequent non-treatment period of 28 days.
Aromatherapy included rosemary and lemon essential oils in the morning, and lavender and orange in the evening.
The effects of aromatherapy were evaluated using the Japanese version of the Gottfries, Brane, Steen scale (GBSS-J), Functional Assessment Staging of Alzheimer's disease (FAST), a revised version of Hasegawa's Dementia Scale (HDS-R), and the Touch Panel-type Dementia Assessment Scale (TDAS; a computerized system for people with minimal computer skills).
And, the results.
All patients showed significant improvement in personal orientation related to cognitive (reasoning) function after aromatherapy.
In particular, patients with Alzheimer's disease showed significant improvement in total TDAS scores.
Result of routine laboratory tests showed no significant changes.
Results from Zarit's score showed no significant changes, suggesting that caregivers had no effect on the improved patient scores seen in the other tests.
The bottom line?
The authors concluded, "Aromatherapy may have some potential for improving cognitive function, especially in Alzheimer's disease patients."
Others are more cautious in their assessment.
An earlier review by researchers at Monash University, in Melbourne, Australia, concluded that the response to aromatherapy is inconsistent. "Some participants benefited greatly from a treatment, while others did not. Interventions proved more effective when tailored to individuals' preferences."
Similarly, researchers at Oxleas NHS Foundation Trust, in Kent, UK, found that "Most of the studies [of aromatherapy to treat behavioral problems in dementia patients] included very small numbers of patients and were designed in such a way that made interpretation of the findings difficult."
4/10/10 21:50 JR