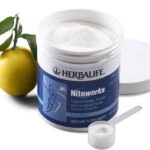 Researchers at the David Geffen School of Medicine at UCLA, in Los Angeles, California, studied the effects of arginine + antioxidants on exercise performance in older people.
First, the details.
16 elderly male cyclists were randomly assigned to a treatment group for 3 weeks.

A proprietary supplement (Niteworks, Herbalife International Inc.)
A placebo powder

Exercise parameters were assessed by maximal incremental exercise testing performed on a stationary cycle ergometer using breath-by-breath analysis at the start and weeks 1 and 3.
Neither the patients nor researchers knew the treatment given — double blind.
And, the results.
In the Niteworks group, anaerobic threshold significantly increased 17% at week 1, and the effect was significantly sustained by week 3.
In the placebo group, there was no change in anaerobic threshold.
The anaerobic threshold for the Niteworks group was significantly higher vs placebo at week 1 and week 3.
There were no significant changes in VO2 max (a measure of aerobic capacity) between placebo and Niteworks groups at either week 1 or 3 when compared to the start of the study.
There were no side effects in either group.
The bottom line?
The authors concluded, "An arginine and antioxidant-containing supplement increased the anaerobic threshold at both week one and week three in elderly cyclists. No effect on VO2 max was observed. This study indicated a potential role of L-arginine and antioxidant supplementation in improving exercise performance in elderly."
It's not stated in the study whether aside from positive changes in anaerobic threshold there were clinically meaningful benefits. Does a 17% change result in better quality of life, greater activities of daily living, etc.?
More background on arginine and exercise performance is here.
NOTE: The study, conducted at UCLA and funded by Herbalife, used Herbalife's original formula Niteworks. The current product has a slightly different formula, although no changes were made to the active ingredients, according to the article published on Medical News Today.
4/11/10 20:31 JR