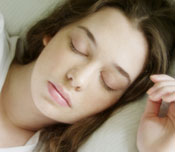 During the annual meeting of the Associated Professional Sleep Societies, researchers from Louisville, Kentucky presented more support for cognitive behavioral therapy (CBT) in the treatment of insomnia.
First, the details.
The medical records of 115 patients who had undergone at least 2 sessions of CBT were reviewed.
All patients had either prolonged sleep onset latency (taking 30 minutes or longer to fall asleep) and/or wakefulness (poor sleep maintenance) after falling asleep.
Sleep was monitored using sleep diaries.
And, the results.
After as few as 2 sessions, patients who had difficulty falling asleep fell asleep an average of 58 minutes sooner — a significant improvement.
Those with nighttime wakefulness got back to sleep in about 30 minutes — also a significant improvement.
Among 50 of these patients who had difficulty falling asleep and staying asleep, there was an average reduction of 40 minutes from the time needed to get to sleep, and they returned to sleep about 41 minutes faster.
The bottom line?
Others have reported positive results with CBT.
Here are 2 studies in the past year that combined CBT with drugs or meditation.
160 adults with persistent insomnia
Adding zolpidem (Ambien) to CBT produced added benefits during acute therapy.
Long-term outcome was better when zolpidem was discontinued during maintenance CBT.
30 adults with psychophysiological insomnia
Mindfulness meditation combined with CBT was associated with reductions in both sleep arousal and sleep-related arousal.
6/15/09 18:54 JR