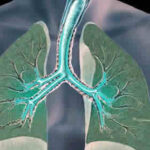 Young African-Americans in Washington, DC were studied by researchers at George Washington University School of Medicine and Health Sciences, in Washington, DC.
First, the details.
Total blood levels of 25-hydroxyvitamin D were measured in 113 young African-American residents of Washington, DC.
Insufficiency was defined as blood levels less than 30 ng/mL; and deficiency was less than 20 ng/mL.
21 of these people had physician-diagnosed asthma.
And, the results.
The prevalence of vitamin D insufficiency and deficiency was significantly greater among those with asthma vs those without asthma (86% vs 19%).
The bottom line?
Most of this sample of urban African-American youth with persistent asthma were vitamin D deficient or insufficient.
The authors believe that "strong consideration should be given to routine vitamin D testing in urban African-American youth, particularly those with asthma."
An earlier study of children living in Costa Rica had similar findings.
4/6/10 20:17 JR